Due to the incredible amount of dedication and efforts of our team, Sai Shree Hospital is regarded as one of the best hospitals for a spine surgery in Pune. It is important to understand that the vertebral column is an important and one of the most complex structure that protects the spinal cord. We at Sai Shree believe that a healthy spine is equal to a healthy life. However, it is essential to recognize that as we grow older, our spine is more vulnerable to medical problems and complications.
Some of the most common diseases that affect the spine include :
Spina bifida
Spinal disc herniation (slipped disc)
Spondylolisthesis
Apart from the aforementioned diseases, there are other potential factors that also mean a surgery may be essential such as improper posture, accidents, sports injuries, etc.Although medication and therapy can help patients to a certain extent, if the problems still persists, a spinal surgery is important. The orthopaedic team and neuro surgeons at SaiShree Hospital have years of training and experience under their belt. In addition, our team uses the latest equipment and surgical tools to ensure every surgery is carried out with care and precision.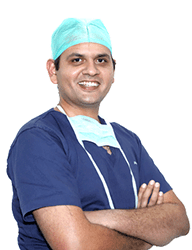 Operating Surgeon & Surgery
He is an Orthopedic Spine surgeon with special interest in the field of MISS (Minimally Inva-sive Spine Surgery)
He has completed his Post-graduation in Orthopedic from College of Physicians & Surgeons, Mumbai. He completed his Fellowship in Spine Surgery from Deenanath Mangeshkar hos-pital, Pune, followed by Endoscopic Spine Fellowships from Wooridul Hospital, South Korea and Biportal Endoscopic Fellowship from Wiltse Hospital, Suwon, South Korea. To further enhance his skills in Endoscopic Spine Stenosis decompression he did Fellowship from St. Mary Hospital, Germany. Currently working as Consultant in Spine Department Saishree Hospital Pune. Dr. Ketan Deshpande has an experience of more than 10 years in the field of Spine Surgery and has the maximum number of Surgeries using Biportal Endoscopic procedures in Maharashtra.