What is Joint Preservation?
Joint preservation clinic is a multi-disciplinary approach towards the management of the patients presenting with any joint pain conditions.
In joint preservation clinics we believe to treat patients with not only the complaints they come to us with but the complaints associated with it. Generally, these conditions if not treated in time may lead to progression in degenerative osteoarthritis.
Who is an ideal candidate to visit a Joint Preservation clinic?
Any patient who has joint pain and comes to the hospital with injury to any internal and external structure of the joint is an ideal candidate for joint preservation treatment. Many patients who have early signs of joint deformities like bowed knee, knock knees, wind-swipe deformities etc are classic examples of patients who can take treatment at joint preservation clinic.
What are the treatment options covered in Joint Preservation clinic?
Joint preservation treatments include both surgical & non-surgical options;
-Non-Surgical options:
Life-Style Modification- Being more physically active & consumption of healthy diet
Physiotherapy- Posture correction, muscle strengthening exercise & other physiotherapy modalities.
Orthosis- Use of various accessories to correct posture like footwear, wearing knee braces etc.
Intra-articular Injection- Injections like corticosteroids, PRP, stem cell injectables etc.
-Surgical Options:
Arthroscopic procedures like Meniscus repair, cartilage repair etc.
Alignment correction surgery like HTO (High tibial osteotomy) & DFO (Distal femoral osteotomy)
Joint preservation v/s Joint Replacement surgery
Joint preservation is a preventive approach towards any joint ailments which aims to prevents or slows down the process of wear & tear in the joint that would otherwise develop at faster rate if not addressed in time. Pacing of these changes has a positive impact on joint health so that the future need of joint replacement is delayed.
But in patients where degenerative changes have already progressed to advanced stage, joint replacement remains as only choice of treatment.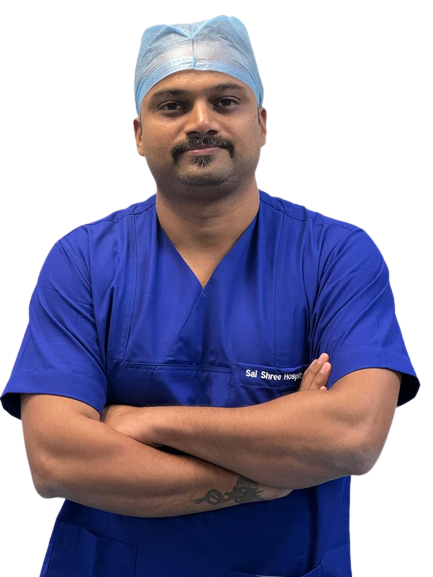 Specialist in : Consultant Orthopedics, Specialist Joint Preservation & Shoulder Surgery, SaiShree Hospital, Aundh, Pune
Dr Ravi Kerhalkar has 10 years of experience as a Shoulder specialist. He has Fellowship in Arthroscopy, Joint Preservation & Shoulder Surgery from Samsung Medical Center, Seoul, South Korea.
Dr Kerhalkar is Head of Department for Shoulder & Joint Preservation Surgery at SaiShree Hospital, Aundh, Pune.